Custom Hardwood Floors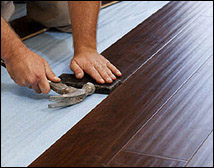 At Off The Wall Floors we take great pride in the level of skill that we bring to flooring installation. Unlike most flooring contractors that you may encounter, we have the capabilities to actually manufacture our own flooring panels, to ensure that they will complete your project exactly, no matter how intricate your design needs may be. We can pull from over 500 styles and grains of wood from around the world for you, and we can also custom stain and finish your floors to your exact specifications.
Off The Wall Floors employs only the most skilled and highly trained flooring experts in the industry. Our focus is not just to do a good job, but to exceed your expectations. As such, there is a very in depth process to our work. Our tradesmen will remove and dispose of your existing flooring (if you choose not to simply refinish your existing floors), make repairs to your existing subfloor if needed, and then we carefully remove all of your existing baseboard. We then bring in your flooring, and have our master carpenters lay out your flooring according to your specifications. After the flooring is installed, we replace and paint your baseboards, clean the job site to your satisfaction, and once we are sure that you are happy with the work, we are on our way.
Hardwood Flooring Galleries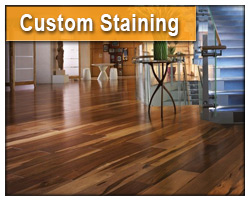 Our Certified Master Stainers can custom stain your hardwood floors to any tint or color that your design might call for.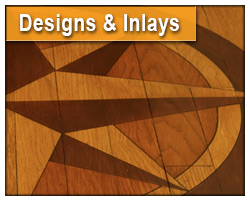 Our skilled carpenters can help you create custom inlays or designs in your floor to add a unique focal point to your room.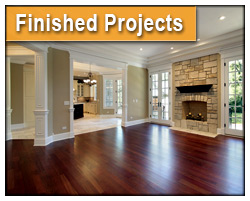 Curious as to the level of our work? Take a look at a few of our completed projects that we've snapped pictures of.
Featured Flooring Supplier

At Monarch Plank we create the finest handcrafted wide-plank hardwood flooring, finished with the latest European coloring and texturing techniques. Our floors feature top-quality construction for superior stability, sawn top layers, and long length boards. All of our Oak floors are made with Western European Oak, which we believe provides the best canvas for creating beautiful floors. American and Russian Oak simply cannot compare to the fine grain structure and color of true European Oak.
Visit Monarch Plank at: www.MonarchPlank.com